Written by: Owusu-Ansah Bismark
Thinking about touring Ghana, Ghana is a country that's steadily reinventing itself.
Known for its colorful culture, wildlife and natural beauty, the West African nation had one of Sub-Saharan Africa's fastest-growing economies in the past few years, thanks to cocoa and a relatively recent discovery of oil.
The economic upturn helped to inject a new lease of life into the arts and fashion scene, leading to a boost in restaurant openings.
While Ghana has no doubt been impacted by the pandemic, the country remains as eclectic and alluring as ever.
The country has long been a mecca for volunteers, and there are many hip and affordable accommodation options available, as well as more high-end hideaways.
A handful of international hotel brands have opened up here over the past few years, but traveling here still feels authentic.
While it's likely be a while before many of us are able to do so due to current travel restrictions — its borders by land and sea remain closed to passenger travel, there's no harm in planning ahead.
From surfing at deserted beaches, to hanging out with wild elephants, here are some of the top things to do while visiting Ghana .
Visit Cape Coast Castle
Now a UNESCO World Heritage site, Cape Coast Castle was one of around 30 "slave forts" built by Dutch, Portuguese and British traders along the country's coastline.
The huge white stone building offers knowledgeable guides who take visitors down to the bleak dungeons where slaves were once shackled, and the Door of no Return, the point they would have been crammed into ships heading for America.
Previous visitors include the Obamas, who came here during their first visit to Africa after the former US President was sworn into office. Michelle Obama's roots have been traced back to slaves taken from this castle.
There's also a fantastic vegetarian restaurant named Baobab café that serves delicious, healthy smoothies and juices. The Cape Coast Castle is the first place to visit when touring Ghana
Visitors can also head inland to Kakum National Park and swing across the rainforest on its 350-meter-long canopy walkway.
Kakum National Park,
 located in the coastal environs of the 
Central Region
 of 
Ghana
,
covers an area of 375 square kilometers (145 sq mi). Established in 1931 as a reserve, it was gazette as a 
national park
 only in 1992 after an initial survey of avifauna was conducted. The area is covered with 
tropical forest
. The uniqueness of this park lies in the fact that it was established at the initiative of the local people and not by the State Department of wildlife who are responsible for wildlife preservation in Ghana. It is one of only 3 locations in 
Africa
 with a 
canopy walkway
,
which is 350 meters (1,150 ft) long and connects seven tree tops which provides access to the forest.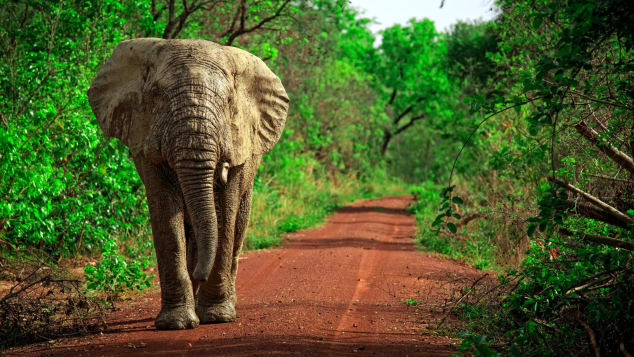 Ghana's largest wildlife refuge, Mole National Park is home to around 93 species of mammals, including African elephants, Nolan warthogs and spotted hyenas.
One of the park's biggest selling points is how close it allows visitors to get to the wild elephants while on foot.
It also boasts a beautiful on site property, Zaina, West Africa's first luxury safari lodge.
Guests here don't even have to leave to get the safari experience, as it's possible to watch elephants while swimming in the infinity pool.
The lodge is up on a hill, with views sweeping out over a sea of green Rosewood and Shea nut trees.
Its rooms are spacious and air conditioned East African style safari tents with thatched roofs, with the majority directly facing a watering hole.
Zaina Lodge
, Mole National Park, Northern Region;+ 233 540 111 503
Go shopping in Bolgatanga
Known as the crafts center of Upper East Region, Bolgatanga is home to a very large central market.
Here visitors can watch cotton fugu smocks being handmade and browse stalls selling everything from turtle shells, to dried snakes and porcupine quills.
There's also a craft market with various shops selling Bolga baskets, which are handwoven from dried elephant grass, then dyed to produce a vibrancy of colors, and can only be found here.
Sleep on rooftops at the Green House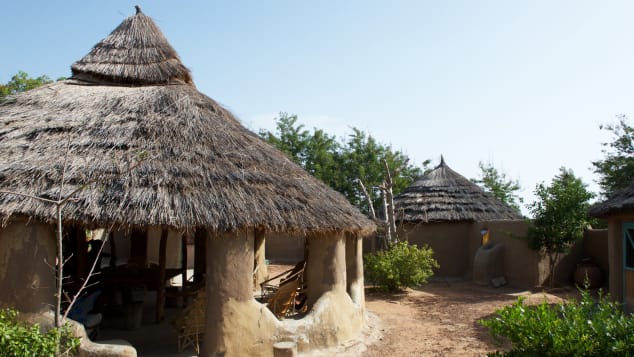 Positioned 30 minutes drive from Bolgatanga, this wonderful eco guest house in Karimenga is owned by visionary local Ibrahim, who's passionate about mud architecture and promoting organic farming.
Green House has just five rooms, all traditionally built from mud and clay, and has no electricity.
Its flat roofs, synonymous with local architecture, can be reached by climbing earthen stairs, so boarders can sleep there when it becomes too hot.
Here guests are encouraged immerse with the surrounding communities, with activities such as visits to Ibrahim's farm, lessons on bee keeping and cooking Ghanaian dishes with Felicia, the guest house's cook, on offer.
For great relaxation, do not forget to sleep in a Green House Rooftop when touring Ghana.
Green House;+ 233 24 933 3184
Visit Larabanga Mosque
At around 600 years old, Larabanga is Ghana's oldest mosque as well as one of the oldest in West Africa.
Situated close to Mole Park in the north, the foundations of this striking black and white adobe building are believed to have been divinely built.
Built with mud and reeds, it's similar to other ancient Sudanese-style buildings seen throughout West Africa, such as the Great Mosque in Djenné, Mali.
Greet the chief in Tongo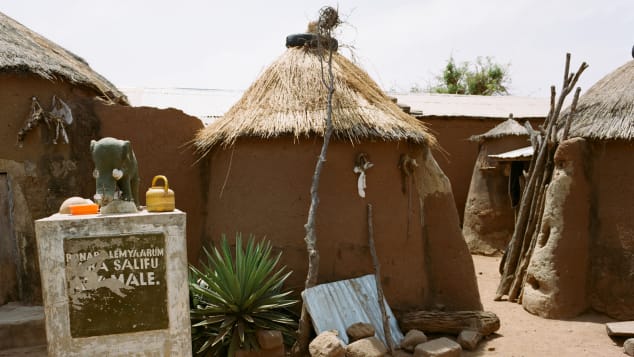 The village of Tongo in the Tengzug Hills is famous for it traditional shrines as well as Whispering Rocks, where boulders are balanced precariously on top of each other and the wind makes whistling sounds through cracks at the top.
However, one of the most fascinating sights here is the chief's palace, a large mud compound that houses around 300 members of his family, including his more than 20 wives.
In fact, in the north, it's polite to greet the chief of any village once you arrive and explain your plans before you start exploring. But travelers must ensure they never stand or sit taller than a chief when they visit a palace when touring Ghana.
Visit https://edition.cnn.com/travel/article/ghana-best-things-to-do/index.html for more about touring Ghana.
https://bisatvonline.com/kotoko-signs-razak539-2/